I (finally!) now have my internet access back to
crap
-"normal". Not exactly hi-speed, but it's good enough for me. I'm no corporate exec who needs everything in my universe at lightning-speed, if not
quicker
. I'm a lowlife who just complains for cheap (since I'm too poor to get an upgrade or
anything
better) DSL and its crappy service. Boohoo. :-P
Besides, having
crawling
-speed internet
does
have its good points. While waiting for your page to load, you can use the waiting time for say, resting your eyes...to prevent blindness. You can have short breathing exercises...to improve oxygen intake. You can maybe go pee, drink a glass of water, or eat. Or whatever it is that we people who spend too much time on the internet than in the real world. Yep, that's a "
we
" right there.
A toast to all of us who can't afford hi-speed internet...but at least we're full,
somewhat
-healthy, okay-vision, and don't have UTI.
So earlier, I got a visit from two other very-unsatisfied Globelines account holders. :D
BB
and
CC
wanted to "hang" and pester me with all their internet woes. *Yakyakyakkityyak* Like I didn't have enough Globelines-issues to
talk
about. I even threw their free landline phone out the garage out of utter frustration. If that's not showing my love, I don't know what is. Besides, the phone was free (it comes with the line, I guess)...and crappy. If it were Bang & Olufsen, I would've hesitated (but would probably
still
do it).
I, on the other hand, just wanted to stuff my face with anything...err,
edible
. I thought I still had one of those edible
soap
s lying around somewhere. But apparently, I'm too much of a pig to save even
that
.
We carpooled (hello skyhigh gas prices, I can only wish you'd
die
) to
Banilad Town Centre
to have lunch, but parking was a bitch. It took us less than ten minutes to get to BTC, and more than half an hour to find a parking slot. At 12 noon, BTC is like this mid-sized college Quad. Half of which, are obnoxious UC-Banilad nursing students (
not all of you
, just...
most
) *teehee* running around BTC like they
own
the place. The other half of the BTC mid-day population are the oh-so-serious-but-rich-as-hell Class AAA (like the batteries?) mums out and about while the hubbies are working and the kids aren't wrecking their prized Lladros...just yet.
So, instead of testing how far our patience could go what with all these people screaming (
seriously
) all over, we just had our food to-go. We're big on take-out food. Nothing beats chomping goooood food inside the car squatting on your seat without worrying about etiquette. *chompchompchomp*
Partially-eaten Roastbeef Sandwich
I always seem to forget to take photos before raping my food.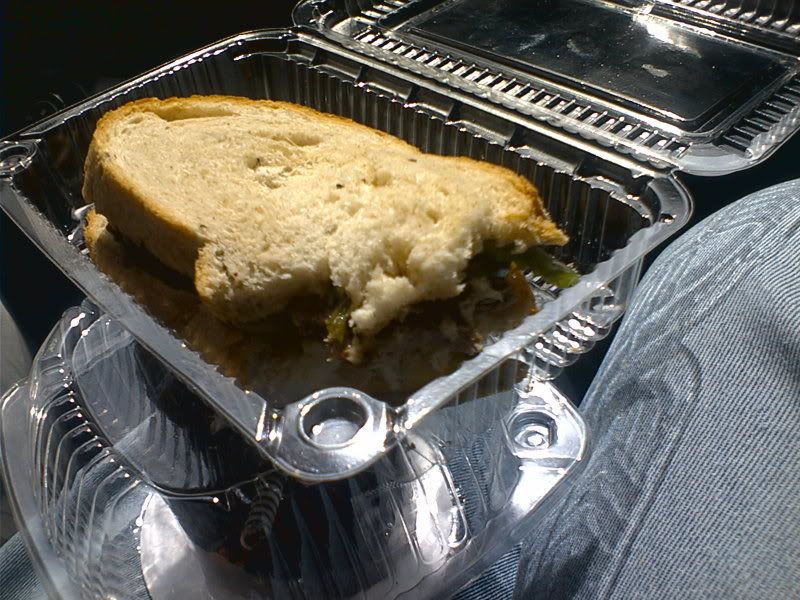 Open Sesame!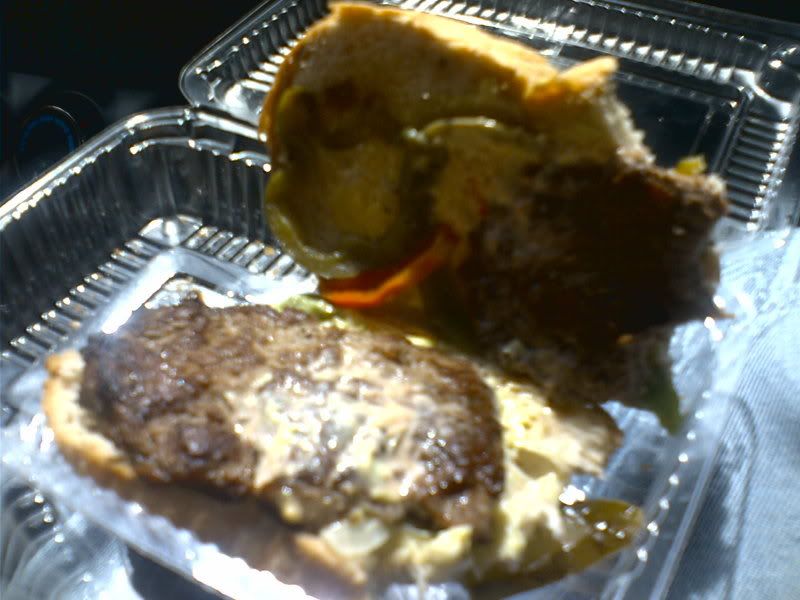 Spaghetti Carbonara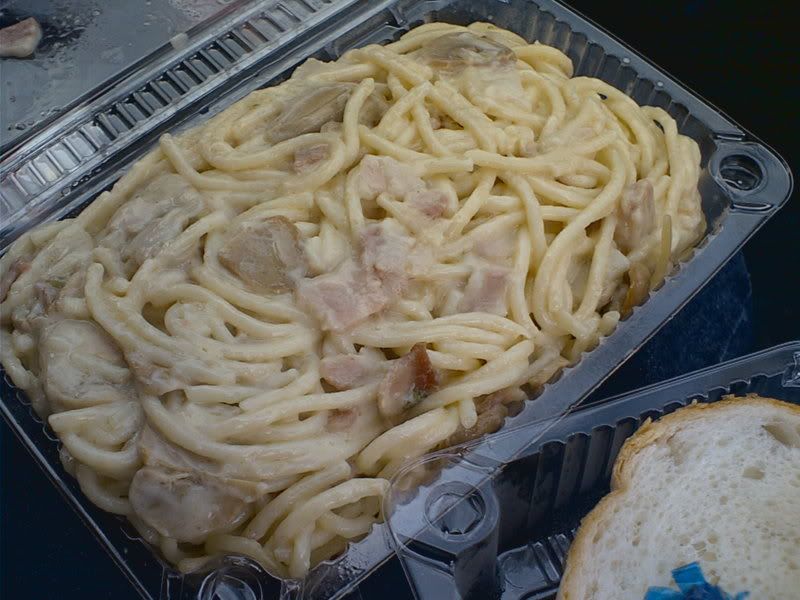 And no, I did
not
touch this one before photographing. It just looks like
that
--already chewed up and barfed out, but it's actually pretty...okay. A little too "bland" (yo chef, what's with the bacon?!) for my taste, but "ok" nevertheless.
LOW-FAT Chocolate Cake!
I already had a sandwich and a mid-sized order of pasta...I had enough sense to "make it up" to my non-existent diet to save what's left of my nearly-Miss Piggy face. The cake is boring, but moist enough. You could see the remains of air bubbles all over...maybe because of the lack of butterfat (?), but surprisingly good.


Bah. Who cares about good old goooeey yummy fudge anyway?
I do. *sniffle*
Chocolate Macadamia Nut
This is actually CC's all-time favourite drink. And I now know why. It's so goooood, I want to hate it. It's one of those things that locks your brain from counting the calories after one fucking sip...and whine about the bloating later.

Molten Whipped Cream
This was taken less than TWO minutes after getting into the car. It's that hot out here in Cebu.
another minute later...
Frothe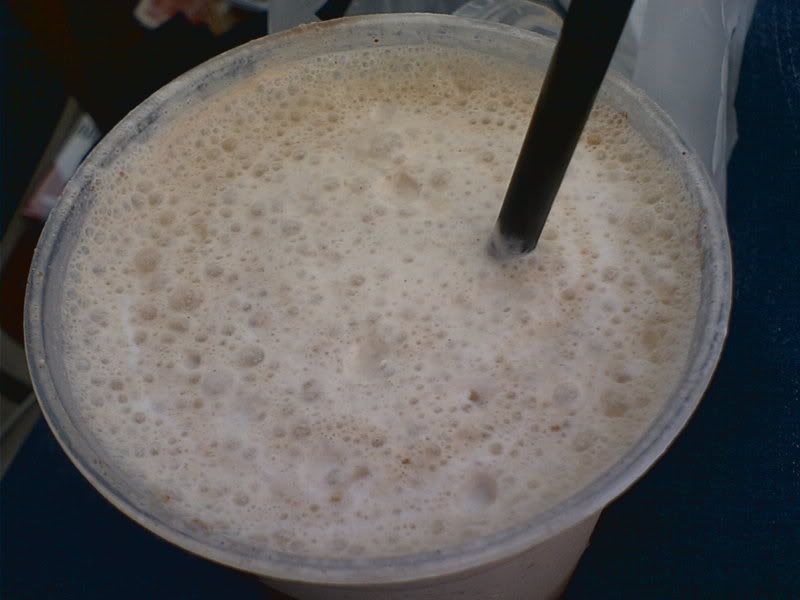 BB's Double-Decker Sandwich
How to massacre a sandwich:
Gotta love how men deal with fancy-schmancy sandwiches...